On his days off, Toby lives in an apartment above the Peter Pan Bistro, located at 373 Queen Street West in Toronto. It first appears in Season 1.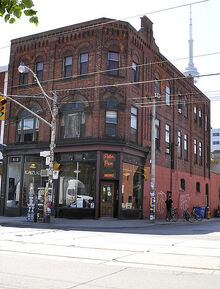 In Season 2, Toby is seen frequently bringing girls to his place.
In Season 3, Oz moves in temporarily due to his place being flooded. Oz later moves in across the hall from Toby's place.
In The Journey, Victor Cloonie breaks into Toby's place to find more information on him. Frank, who is with Toby, shoots Victor.
Ad blocker interference detected!
Wikia is a free-to-use site that makes money from advertising. We have a modified experience for viewers using ad blockers

Wikia is not accessible if you've made further modifications. Remove the custom ad blocker rule(s) and the page will load as expected.